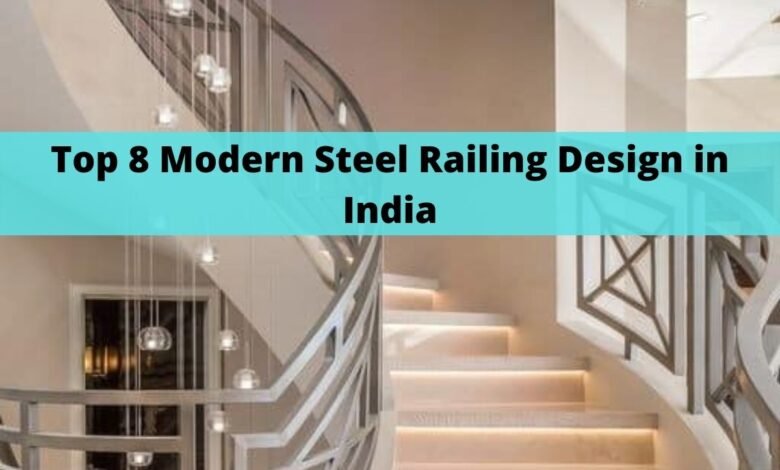 As you all guys know, stairs are the most functional part of the entire house. If your house is the double or triple story then it is the need of your house. Where you decorate every single thing of your house in the best possible way, stairs should also get the same attention. The best option for your stairs is steel railing design. It gives a very aesthetic and sleek look to the overall house. This article is going to revolve around the best steel railing design. So let's have a glance at the details.
Top 8 Modern Steel Railing Design:
It is the best choice for your stairs. But there are different styles and categories of steel railings. Whenever you choose steel railing design for your stair keep in your mind its budget, maintenance, and environment. Below is the list of some modern steel railing design.
1- Glass and steel railing designs:
Source: thesteelplus.com
This is the most modern steel railing design. It gives a very luxurious appearance to your hallway and overall house. The mixture of glass panels with steel railing gives a lustrous and classy look. If you want to give your house a sophisticated look choose this design.
2- Railing design with wood touch:
This combination can add extensive beauty to your house. This will be designed in a way that the balusters and handles will be made with wood and other detailings will be done with steel.
3- Railing design with LED lights: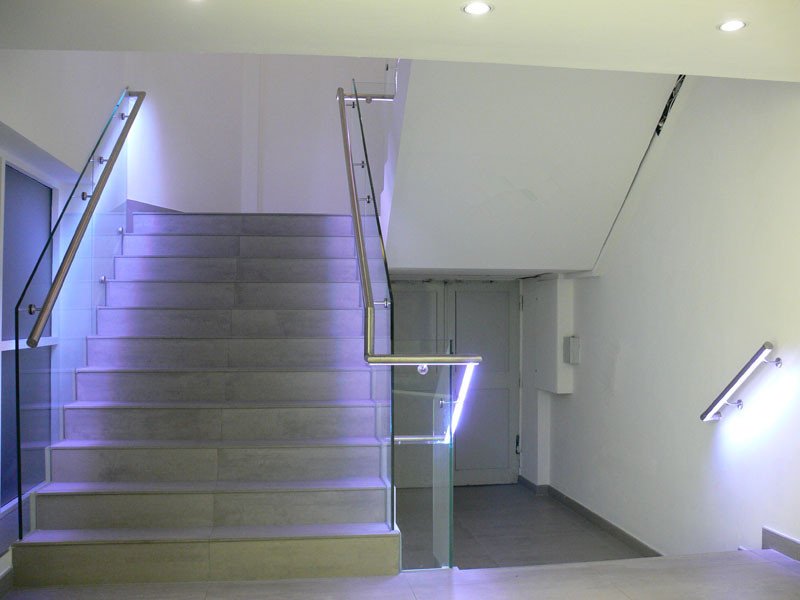 Source: chinaglassbalustrade.com
This is the best and most elegant steel railing design. LED lights are beautifully added to the steel staircase. This can put you in a great mood. This is a whole vibe. Lights can be of any color white, red, blue or yellow. But the white lights give the most elegant look.
4-
Glacier panels and steel railing design:
This is also one of the modern steel railing design. It is mostly seen in high-class bungalows. If you want your stairs to give a clear and sleek look then there is nothing better than glacier panels. If you have a close space for your staircase then it can be the best option because it will make the whole area look spacious.
5- Mesh infill steel stairs:
It is a design that protects your children from falling stairs plus it also enables ventilation. You can get this railing in any color and this design doesn't need much care. This one is a bit expensive and it must be installed correctly.
6- White powder coat railing:
Source: qualifiedremodeler.com
It is also a steel railing design that is simple yet elegant. There are a lot of people who don't prefer lustrous railings. This option is for them. The steel railings are coated with white powder that looks more sophisticated and elegant. This adds one more protective layer to the railing.
For more Home Designs, Please Visit Pop Designs
7- Ornamental steel railings:
Ornamental steel railings is the most royal design that gives literal and aesthetic beauty to your house. This gives a very vintage look to your home.
8- Designer railings:
These are the railings that are customized as per your choice and demand. Some are single pieces and their beauty speaks for itself. They look super stunning. You can select the most unique designs for your home.
9- Architectural railings
:

Source: architecturalhandrail.hollaender.com
This is a modern steel stair railing design you can add elegant and stunning handrails to your stairs. These architectural railing will make a quiet statement and add more royal beauty to your house.
Final verdict:
Steel railing designs have multiple designs and options. You can go for any design as per your budget. If you can afford expensive ones then you can put your hands on designer railings. All steel railings add more beauty to your house.
Related Article: Top 7 Latest Open Kitchen Design in 2022