Open Kitchen Design: A kitchen is a place where every person in the house goes many times a day. It needs to be very easy and handy to use. Nowadays there are different trends going on. People have different choices, some people like simple designs and some like old ones. The kitchen designs depend on the size of the overall house.
If you have a big house then the kitchen will also occupy more space and get designed according to it. Everyone wants to keep their kitchen designs updated and it never goes out of fashion. If you are renovating your kitchens then you can go for several kitchen design ideas. In this article, we will discuss the latest open kitchen design.
Open kitchen Design 2022:
Nowadays new houses come with open kitchens. Basically, we call that kitchen open which doesn't have walls that keep the kitchen separate from the other rooms or dining halls. Open kitchen designs portray a picture of extension with the dining and living room. You can decorate this kitchen in multiple designs. Now let's talk about the ideas that can give your kitchens an extraordinary look.
1- Embrace your kitchen with Drawers and Pull Outs:
Image from www.bystored.com
In old kitchens, the concept of having cupboards was a must. But they failed to keep much of the necessities of the kitchen. But now these are replaced with drawers.
They benefit from occupying smaller spaces and keeping more things. With the help of dividers in your drawers, you can categorize where to place which thing. In this design, you can organize your things in the best way.
2- Addition of Dining Table or Barstools: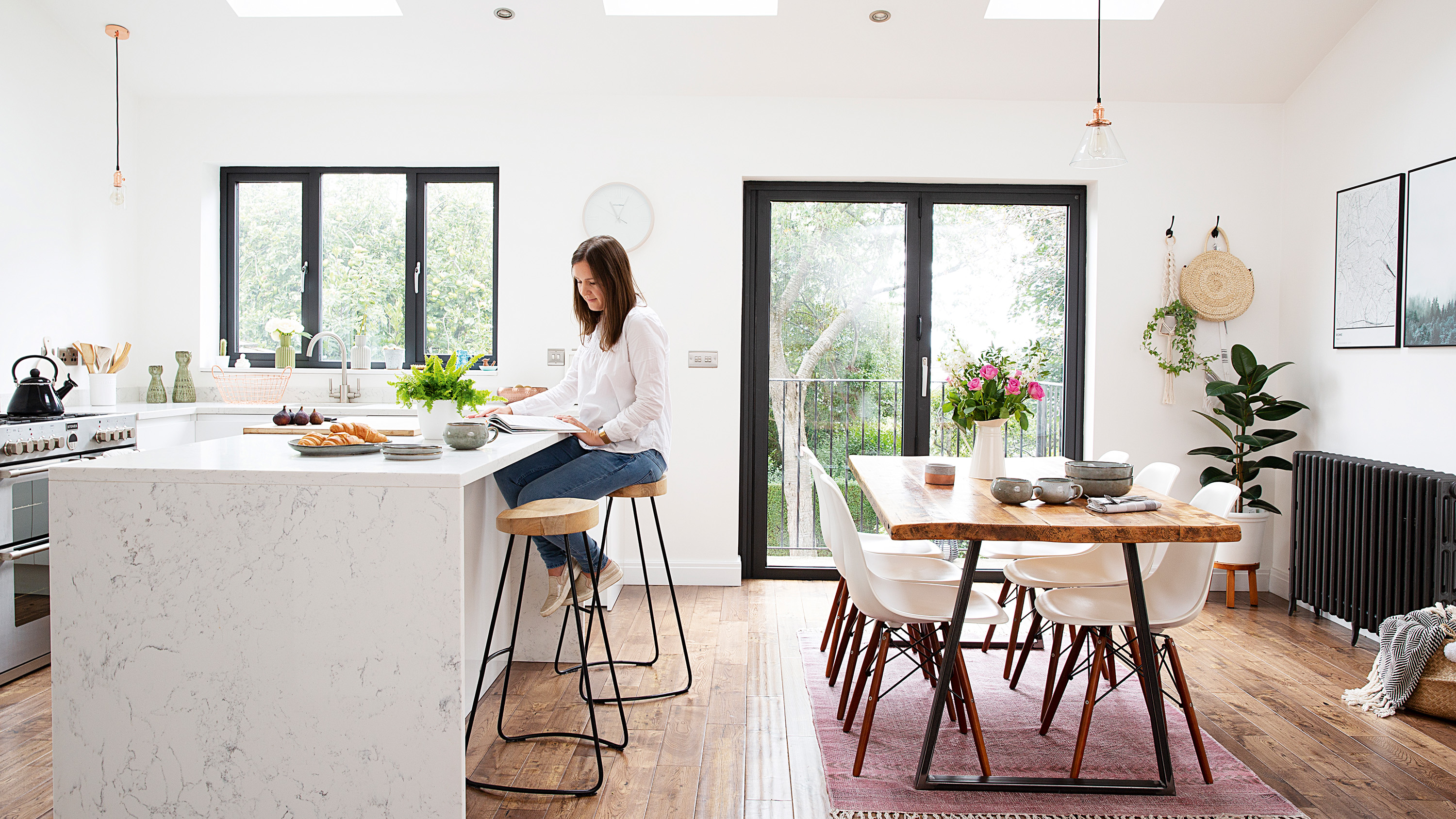 Image from www.realhomes.com
In your kitchen, you can enhance its functionality. For example, you can put dining tables or barstools in your kitchen where you and other members of your house can enjoy daily meals or coffees. Moreover, the extra space gets occupied in the most functional way.
3- Make your small kitchen look big with the good color combination
People usually made mistakes in the selection of color pallets. If you make use of dark colors in your small open kitchen design then it will make them look even smaller. Always go for subtle color combinations for your small open kitchens. Light brown, peach, white, grey, golden yellow, light yellow, and many more are choices of light colors. Everything in the kitchen like walls, shelves, and millwork must be in a lighter shade.
4- Single-wall Open Kitchen Design:
It is always a tricky task to make the open kitchen design look elegant and spacious. Maintaining space for these kitchens is an art. Adding only one wall to your open kitchen can make it look bigger. It fairly specifies the area of your kitchen and it looks bigger.
5- L-shaped Kitchen Layout:
Image from www.pinterest.com
If you are fond of having an open kitchen then the L-shaped layout is the best option. It can be made in smaller areas and can save space. This design will help you to give flexible arrangements.
You can easily work in your kitchen. You can place your cabinets and other useful appliances on the angled wall. This will save the central area of your kitchen which you can utilize for dining tables.
6- Installation of High Ceiling Cupboards:
If you want to add cabinets in your kitchen then always make sure that they are extended to the ceiling. This is because dust gathers on the upper side of them which is very hard to clean. One more thing that you can do is to install small pullovers or cabinets in the empty space, it will help you to keep things in them.
7- Include Open Shelves and Holders: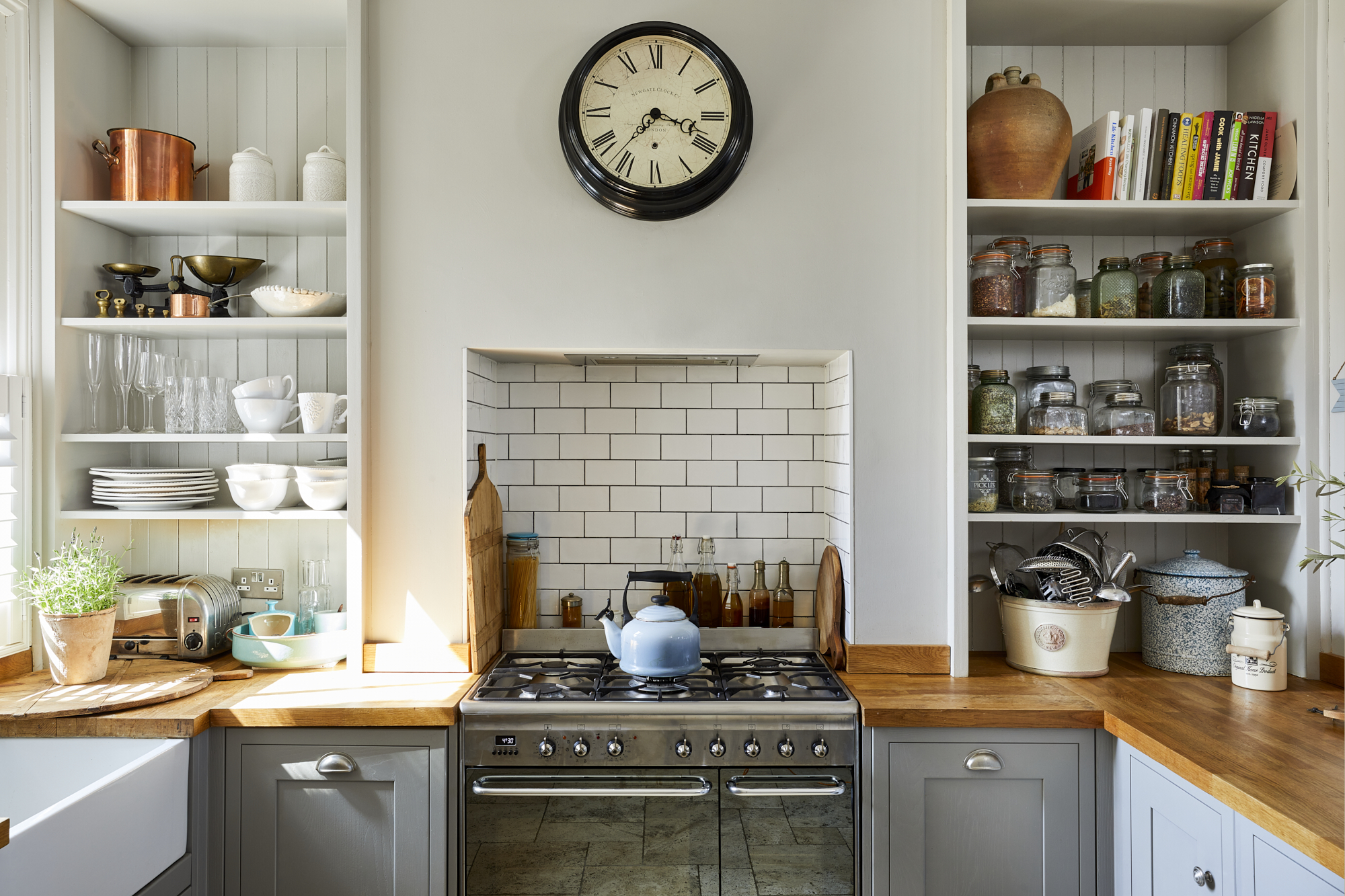 Image from www.homebuilding.co.uk
Most of the people place giant cupboards for the cutlery which takes a lot of space. There is a solution for this thing you can place open shelves and cutlery hooks on your walls that will give an aesthetic look as well as increase the storage space in your kitchen.
Benefits of open kitchen:
1-  These kitchens give a very attractive look and a pleasurable vibe to the guests.
2-  You can easily see what everyone is doing as it is open.
Disadvantages of open kitchen:
1-  All the sounds from open design kitchens come out in the dining and living room and it annoys everyone.
2-  When you cook food all the heat spreads all over the house.
Closing remarks:
Open kitchen design is now trending because they don't take much space and still can manage to look spacious. Everything has its pros and cons you can choose this design if it suits you. Hope you would like this article.
Visit Here zuhairarticles.com also for more interesting blogs