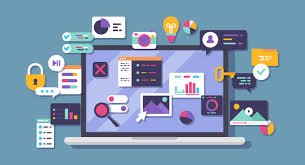 Due to the numerous ways we use the internet nowadays, it has become tough to survive without it. The proper use of the internet makes our lives simple, quick, and easy since it provides us with information and knowledge for a variety of purposes, including social, personal, and industrial. However, how we utilize the internet in our daily lives depends on our unique needs and objectives. This could be for communication, business, research, education, or even using tools and technologies that you never knew would make your life easier.
However, there are some websites and online tools that are so extremely useful that you might not even realize they are free because of the high quality of the services they provide, and it might feel strange and illegal to know that you can look them up just for free online and use them to enjoy a new kind of simple, cozy digital experience.
1. Generator Tools
Online generator tools can be for creating things and objects in a certain category. You can locate numerous online generator tools that assist you in producing anything. There are a variety of lists you may come up with, including ones containing random data, symbols, squads, codes, nations, crosswords, and Pin codes. These generation technologies employ a technique that cannot be altered in order to ensure complete randomness; this means it wouldn't be the same with those who use the same tools.

One of the instances of generating tools that provide you with high-quality services is song lyric generators, poem generators, and even tools for creating job-related papers like a cover letter builder. Therefore, generating services are truly beneficial since they are aimed at assisting you with unique needs that you may have never had before and that provide insights to aid you generally in developing the ideas for the things you need.
TinyWow

To assist you in resolving issues of all kinds, TinyWow offers free online converter, pdf, background removal, file compression, image cropping, video muting, and other useful tools. Since the website is free, there are no restrictions. The fact that they don't even accept sign-ups, which is a major burden for anyone looking for online services, is another fantastic aspect of their website.
Tinywow wouldn't deceive you into utilizing their tools just to deny you access before you could download the work you just spent your valuable time developing. Additionally, the website only shows little advertisements, so it won't disturb you too much. Therefore, this free online service is genuinely a gold find, due to the top-notch services it offers.

Quillbot
Killbot provides services to make your words stronger by paraphrasing them to the best standard that makes you sound more polished. Not only does it help with grammar, but it also helps with sentence expansion or contraction, plagiarism checker, and many other things. Because of this excellent service, millions of people have been able to write flawless phrases for documents, blogs, news, and other purposes.
Additionally, the Quillbot now has a Chrome and Word extension, which you can add to your browser to automatically evaluate grammatically incorrect statements and help you correct them. As a result, it's a really good option for authors, scholars, and content writers to help them enhance their overall work.
Canva
Canva provides a free and premium graphic design platform for making social media graphics, business cards, brochures, presentations, posters, infographics, papers, and other visual content. Canva is a potent design tool that can be utilized in education to produce projects that not only have excellent aesthetic appeal but also have top-notch qualities that aid in explicitly teaching everyone the fundamentals of digital design.
Utilizing the huge amounts of templates available through this platform, you can design and explore digital objects while requiring little to no prior expertise or experience. Therefore, Canva is an excellent tool that allows individuals to produce graphics that appear professional without having the expertise that can save users time and money.

Conclusion

Therefore, online resources and services have greatly benefited us in a number of ways. They support us in a range of methods and ensure that we have an excellent online experience. These services give you a lot of valuable items that you can utilize in any specific area to solve a lot of problems. It is advisable that you use these services when you are experiencing specific challenges in any sector because they have proven to be quite beneficial. This will allow you to fix the issue quickly and avoid wasting time and money.
Also Read: 4 Ways To Avoid Going To The Dentist.