Tech
Best PDF Software for Windows You Should Try: UPDF
PDF is an essential format used to preserve digital documents. PDF format enables you with a reliable way to exchange documents, such that the document's contents remain the same, regardless of the hardware you choose.
With the immense use of PDF format, the usability of PDF software is necessary. PDF software is essential to open, read, annotate, edit, convert, etc. On your PC, there is a default PDF viewer and reader. However, the functionalities of default PDF software have become very limited. That being the case, you need third-party software to assist you with using PDF. (Keep reading, surprise at the end of the article.)
Does Windows Have a PDF Program?
Yes, Windows does have a default PDF program, Microsoft Edge. It was a very efficient PDF software for Windows, but fourteen years earlier. Sadly, it doesn't meet the standards and requirements of the audience.
It doesn't allow you to 'Read Aloud' your PDF file, annotate, comment, highlight, filling-in-form, and more. Therefore, Windows users are disappointed with Microsoft. 
Also, Microsoft hasn't fixed these problems, nor have they upgraded Microsoft Edge and included new features. So, switching to a more efficient and reliable PDF software that values your concerns is better.
Best PDF software for Windows — UPDF
Windows default software has many limitations. However, an efficient and user-friendly third-party software can assist you in controlling PDF files the way you want. If that's what you want, then let me introduce you to UPDF. It is a PDF software that is available across all platforms. From Windows to iOS, you'll find it everywhere.
It is a robust PDF software that assists you in annotation, reading, viewing, and even organizing your PDF files. With its advanced features, you can perform any task conveniently.
Top Features of UPDF That You Need to Know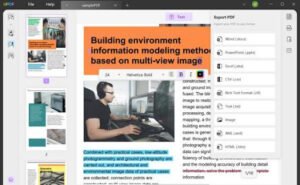 There are numerous features of UPDF available in the PC version. These are the top features of UPDF on PC that make it worth purchasing.
PDF Reader
UPDF is an efficient PDF viewer that allows you to view files in various ways. You can use a single/double page view to view your PDF. Also, you can enable scrolling to view the entire content at once. Like a browser, you can open several PDF files in a single window. 
This PDF software for Windows has a navigation toolbar. This toolbar allows you to zoom in, jump to a particular page, and more.
PDF Editor
You can edit your PDF file using this PDF software for Windows. UPDF allows you to edit both images and text in the PDF. You can add new text to your PDF and modify the existing text by copying, deleting, pasting new text, etc. Also, you can adjust the font parameters like style, color, size, etc.
Organizing PDF
With UPDF, you can insert new pages, rotate pages, replace, delete, and extract pages with a slight touch. You can split up the PDF file and create two or more small PDF files. You can manage the page range like landscape, even, odd, and portrait.
UPDF provides tools that allow you to add text markups for reviewing your PDF. You can highlight, underline, and strikethrough your text. It also has commenting tools like sticky notes, text boxes, typewriter, shapes, etc. That allows you to add comments to your document.
Encrypt PDF
To enforce security on your PDF document, you can add a password to PDF files. They are two ways to enforce security on your document. You can add an open password or permission password to your PDF. By using an open PDF, you can restrict the user from opening the PDF. In comparison, the permission restricts the user from copying, printing, and editing your PDF file.
Invite your friends to sign up for UPDF, and both you and your friend get a 1-Month Free License.
5 Reasons to Use UPDF
These are the top reasons to convince you that UPDF is the best PDF app for Windows.
It has affordable price plans. You can purchase the

best PDF app for windows

in a yearly plan for $29.99.

It is convenient software with a stunning user interface. It has all that you need to manipulate the PDF document. Whether it is editing, reading, viewing, annotating, etc. You can do all of that by using UPDF.

It has quick and responsive customer service. On top of it, UPDF is always looking to improve the software and add new features to the software.

UPDF is also an efficient PDF software that allows you to convert PDF files into various formats with a slight click. Whether in .docx or .pptx, you can conveniently convert PDF files to another format.

You can use a single paid account across all the platforms of UPDF.
Conclusion
Finding the best PDF software for PC is very challenging. However, after reading this article, you'll be able to conclude why UPDF is the best PDF app for windows. You can check out their price plans and enjoy the limitless features of UPDF.
The best part is that it is available on numerous platforms like Windows, macOS, iOS, and Android. So, if you want efficient pdf software for your PC, UPDF is the perfect option.
Also Read:  The Best Chocolatiers In The World In 2022.