Lifestyle
What Type Of Wedding Band Should You Get?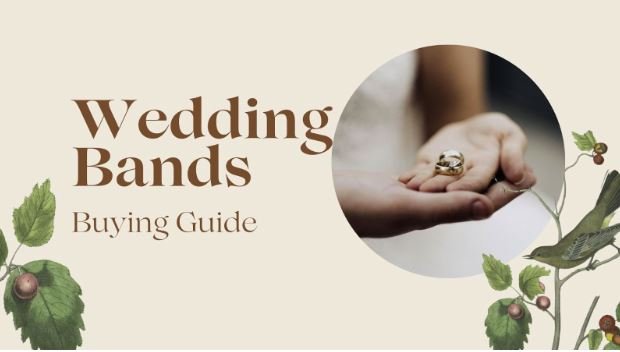 You always dreamed about your wedding day. But no part of the dream took into consideration the hassle of preparing for the big day. Forget about choosing the venue or wedding outfits. A major headache you and your partner are going through is choosing the wedding bands. 
Every trip to the jeweler increases the level of confusion. You both have your hearts set on diamond wedding rings. But the many choices in size, color, and shapes are not making things easy.
Well, that is understandable because the industry is growing. Every day, new trendy designs are hitting the market. In the US, the bridal jewelry market is worth upwards of $80 million. These include diamond engagement rings, wedding bands, groom's jewelry gifts, and other wedding-related jewelry. 
So what should you have in mind when shopping for wedding bands? We have put together five simple rules you can follow to make the process easier for you.  
Decide On the Wedding Band Budget
Planning a wedding can be pretty expensive. Before you know it, you can find that you have spent a significant amount of money. That is why it helps to know how much you want to spend on the wedding band. Several factors will come into play. Since you have your heart set on diamond wedding bands, you need to factor in:-
The quality of the diamonds, 

Type of metal

The shape and settings 
On average, wedding bands for women will cost about $1,417. For men, it can average about $558. But as we stated, many factors come into play. So you can get matching wedding bands that are simple and elegant for starting prices as low as $255 each. 
Lab-grown diamonds are a fantastic option if you don't have a big budget. They are cheaper than mined diamonds because they do not go through the complex supply chains of the latter. Yet there is no compromise in the stone quality. Indeed the manufactured stones pass through the same certification and grading as mined diamonds. 
Let's say you do a side-by-side comparison of mined and lab-grown diamonds falling in the same grade. You will not find any color, cut, clarity, or carat difference. 
Wedding Bands Customization
A marriage brings together two people who love each other and vow to do so to the end of time. But it doesn't mean that your personalities are the same. You may have different ideas about what your wedding bands would look like. It is ok not to have matching bands. 
The alternative is to customize your rings to include similar elements without losing the unique or individual characteristics. One party may prefer the more durable platinum metal because of the lifestyle. Your partner may have a leaning toward white gold. 
You can then agree to the same look for the setting of the diamonds. The designer can also engrave the date or other special message. 
To Complement or Not To Complement the Engagement Ring
There is something very special about an engagement ring. It is that first expression of love and commitment from your partner. So many people will prefer to get a wedding band that complements the engagement ring. If you like the idea, the rule is quite simple. Look for a seamless blend. 
Let's say the engagement ring had a massive diamond as the centerpiece. In that case, the wedding band should be simple to fit the finger nicely. Imagine two huge stones sitting on one finger. A good option would be to go for a shaped band that will fit around the stone.   
Factor In Your Lifestyle
When choosing your wedding band, please have your lifestyle at the top of your mind. Let's say you work in a factory around heavy machinery. Having a stone setting that juts above the metal surface would not be a good idea. You run the risk of snagging, which can result in serious injury. A good idea would be to embed the stones in grooves. Yet, the same would apply for, say, a chef. Grooves and engravings can trap dirt, food particles, and more.    
Choose the Wedding Band Metal
The band metal also matters. With so many options, you are sure to get something that will work for both of you. Consider your preferences and also have your lifestyle as a top consideration. If you want your bands to match, you can find wedding sets that incorporate the same metal. 
If you are the outdoorsy type who works a lot with your hands, go for

platinum

metal because it is durable. Although it is pretty expensive, you don't have to worry about tarnishing or scratching. You should also avoid it if your engagement ring is a different metal. The platinum will destroy the softer one.  
Gold

is fragile and can work if you have an office job. White gold is an excellent alternative to platinum. The soft color of rose gold is very feminine and will look fantastic on the blushing bride's finger. For the best durability, you want gold that measures upwards of 14 carats.

A gold carat

is a measure of gold ratio to other alloys or metals. The scaling ranges from 0 to 24. The higher the carat, the more gold in the wedding band. 
Silver

may be more forgiving to the pocket in terms of cost. But it is a soft metal and is prone to scratching. Over time it will also oxidize and lose its shine. It is not a very practical metal for everyday wear, and the maintenance aspect is quite high. 
Other metal choices for your wedding bands are tungsten, titanium, cobalt, and stainless steel. If you react to some metals, make sure you go for hypoallergenic ones. Your wedding ring designer should be able to show you the range so that you can make the final choice.  
 Final Thoughts
We have shared some simple rules and tips for buying wedding bands. It should be pretty clear that it is a time-consuming process. That is why you should start early to avoid a last-minute rush. 
Another fantastic piece of advice we can give is to be careful where you purchase your wedding bands. This is especially critical if you are putting your money into costly gemstones like diamonds. 
Buying from reputable dealers assures you of quality and authentic stones. They can also create custom or bespoke wedding bands so that you avoid the copy and paste look of off-the-shelf ones.