Lifestyle
Personalised Rakhi Gifts Your Siblings Will Appreciate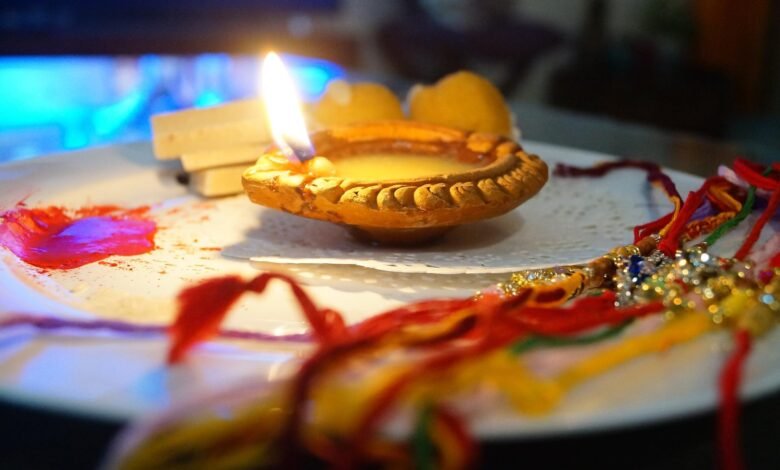 Raksha Bandhan is a festival for siblings to strengthen their relationships. Gift-giving on this occasion with traditional and personalised items is sure to protect and cement the bond. However, finding the perfect gifts from a plethora of options available can be a challenge. Online gift stores are offering a hassle-free way for anyone to surprise their loved ones. In this post, we share personalised rakhi gifts your siblings will appreciate. Take a look.
Assorted chocolates
Chocolates, sweet and healthy, are a delicacy no one can resist! Spruce up the Raksha Bandhan celebrations and surprise your siblings with assorted chocolates. There is surely something for everyone – with a plethora of flavours and brands. Some of the most popular chocolates to include in the assortment are Kit Kat, Cadbury, Ferrero Rocher, and Kisses, to name a few. Take the chocolate surprise a step further by having the chocolate wrapping papers customised with a name/initials, photo, message, and designs. You can also opt to have the chocolates moulded into different shapes like heart-shaped chocolates and more!
Smart gadgets
Smart gadgets are equally appreciated, whether your siblings are into tech stuff or all about growing their social media following. So, make the best impressions on your siblings on Raksha Bandhan. Some of the best items for the surprise are VR headsets, noise-cancelling headphones, smartwatches, selfie-sticks & video tripod stands, and mobile phone covers, to name a few.
Photo gifts
With vivid memories to share from a single pic – a photo undoubtedly contains more than a thousand words! Make lasting memories with your siblings on Raksha Bandhan with decorative and timeless photo gifts. Some of the most common items are personalised photo frames (wooden and glass), photo lamps, wall clocks & wristwatches, figurines, and posters.
Piggybank
In life, every journey begins by taking the first step! Have a business-minded sibling? Inspire your sibling to pursue her/his dreams by saving and re-investing with a piggybank. There is a wide variety of piggybank designs and customisations online.
Personalised mugs
Are you a family of tea/coffee lovers? Bring back happy tea time memories on Raksha Bandhan with personalised mugs for the whole family! Finding the perfect mugs will be like taking a walk in the park since you know everyone's favourite colours and designs. Check out trending mugs on social media platforms like Instagram, Facebook, and Pinterest.
Keychains
Keys are important! Be it keys for the house, car, or scooter, keychains/keyrings are the most innovative way to keep them in one place. Your siblings will always think about you wherever they go! Take the keychain surprise a step further with personalised rakhi, bracelet, and pendant, among other jewellery items.
Plant gift
Plants are gifts from mother nature! They will always be some of the top gifts to express the deepest feelings and emotions. Some of the most common plants for gifting are Money, Bonsai, Lucky Bamboo, Succulents, and Jade plants, to name a few! From providing us with oxygen, and filtering toxins from the air to spiritual significance, these decorative gifts will surely keep on giving with consistent care and maintenance. Take the plant surprise a step further by having the pots personalised with name/initials, photo, message, and designs.
Personalised Journal
Thoughts and goals penned down are easier to notice and chase than keeping them in mind. A journal is quite handy for jotting down important information. Make the best impressions on your siblings with personalised journals. There is a wide variety of journals from which to choose. While some have a wooden cover, others have a leather finish. So, search for a journal that resonates with your sibling's favourite designs and options.
Cake
There is a saying usually passed around by sweet tooth people "A party without a cake is nothing but just a gathering"! The cake cutting and feeding hour are among the most awaited moments. Make Raksha Bandhan celebrations a gem to remember for your beloved siblings. Since you know their favourite cake flavours and designs, with online bakeries – you do not have to stress about mixing the daugh. Simply arrange online cake delivery from the comfort of your home.
Wrapping Up
Now that you know the ideal personalised gifts to surprise your siblings! Whether miles away from your siblings, complete the Raksha Bandhan festival with personalised rakhi gifts from online stores. Search for a reputable online store offering a wide variety of rakhi gifts, personalisations, and home delivery.
Also Read: The Myrtle Beach Lawn Care.