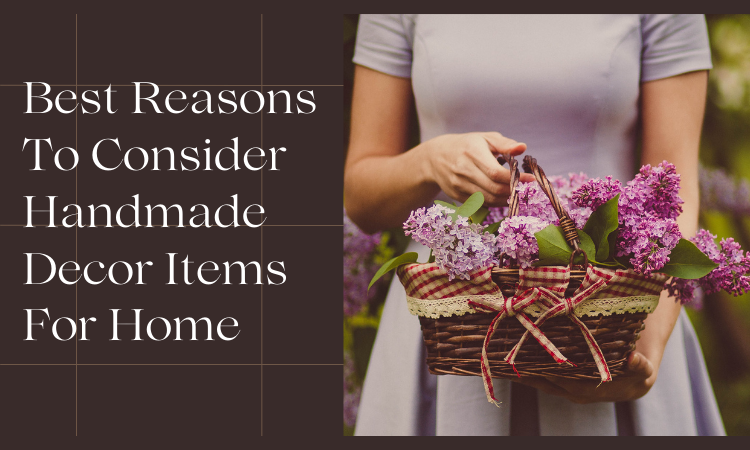 The exponential rise in demand for handmade products has allowed artisans worldwide to make their creations easily available. Especially during the current era of the digital world, you can shop for umpteen handmade items or gifts from the comfort of your home as per your needs. Whether you are looking for a handmade basket set or simply a table mat for your dining area, artisans have made sure to curate items for every need of humans. But beyond the convenience part, what we gain when we buy a handmade item is much more than that.
Our home is a blank slate so we can decorate it with emotional value in every corner. And handcrafted elements fulfill the same need the way you like. Apart from that personalized feeling, there are a plethora of surprising benefits that make buying handmade decor items a smart consideration. Let's discuss those reasons in detail below. 
Best Reasons for Buying Handmade Decor Items: 
Eco-Friendly & Sustainable 
Most handmade products are both sustainable and eco-friendly in nature.  These products consist of eco-friendly materials that are not harmful to the environment. There are no sure chances that a big brand may or may follow to being environmentally sensitive, but handmade items do. It's important to save our environment, and thus lead a lifestyle that will help us for the same. With the addition of handmade decor in your home, you are initiating a great step towards saving the environment. So, if you are an environment-friendly or earth-conscious soul, then handmade is always the better choice. Put in your efforts to make a healthy eco-friendly world with handicrafts. 
Uniqueness In Every Product 
Unlike the machine-crafted items that go for mass production, handmade products boast uniqueness in every single thing. There is nothing individual or special when you purchase decor items from the big stores.  For example, if you buy plenty of handmade flower pot from a small artisan, you will find some individuality and special touch in every piece. Handmade decor items are more than just a product. They are packed with love, uniqueness, and creativity. In fact, nobody in the whole world will have the exact same item you have purchased from a handmade artisan. So, if you wish to give your unique home vibes, then handmade should be your choice of decor. 
Appreciation Towards Skills & Craftsmanship 
With handmade products, what we realize is that every artist is gifted to excel in a certain skills. So, the least we could do for those great individual artists is to appreciate their talents and purchase their products. You might have seen there are different home decor items in your area from other regions. From handmade basket set and bags to pots and paintings, every decor item conveys a story about the craftsmanship of those artists. Imagine putting handmade crafts in your home from different regions. And every time you see them, you are reminded of the diverse culture of that specific place. In short, putting handmade decor in your home is a great way to include the rich heritage into your daily lives. 
Quality Products That Withstand With Time 
Investing in home decor means you wish it to last for years and years. And that's only possible if you choose handmade decor elements for your home. As we mentioned earlier, mass-produced items have a tendency for a short life. That's because they are made with an inexpensive budget to maximize profits. Artists use quality materials and ingredients, spend hours curating every single piece, and put all their effort into it. This is the reason why they can withstand time and remain just the same for years. All handmade decor is made from material that can go through time because they are made to last. Simply, there is no comparison between a machine-made and handmade decor element. 
For more Home Designs, Please Visit Pop
Handmade Decor Means Love In Every Corner 
Decorating a home means pouring your heart and feelings into every corner. And when you choose handmade decor items, then you are allowing love and creativity to come closer to your everyday life. The special attention during the creation process of handmade decor elements makes each it very special. Whenever you buy a decor item from an artist, you know that the maker has made this for you with full passion and dedication. This brings more comfort and loving vibes to your home.  Not just that, it also makes your space actually a home sweet home from every corner. This is also one of the reasons why you may have seen people choosing handmade decor items for gifting at housewarming parties. It acts as a great token of appreciation and gratitude to the recipient. 
Conclusion 
In the end, we can say handmade decor items come packed with love, care, passion, and art, along with the dedication to create something new every time. Also, in this current time, when the environment is going through so many changes, it is imperative to understand the importance of using sustainable products that are only possible with something that is handmade. So, whether you are decorating your living room space, balcony, or any other location, every element that goes there must portray love. And reasons mentioned above make handmade decor items an ideal choice in every sense. So, without any further ado, bring home the love & dedication of handcrafted items and cherish them for years to come.